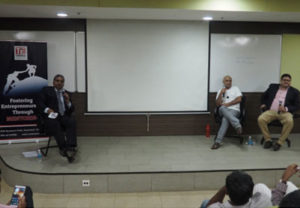 TiE Chennai Event
Sterling Software CEO, Mr. Suresh Kuppuswamy speaks about the future of Bitcoins, Blockchain and Distributed Autonomous Organizations at TiE event. A TiE-Chennai event titled " Bitcoins, Blockchain and Distributed Autonomous Organizations " was held on 24th May, 2017 at IITMRP. The event was moderated by Mr. Suresh Kuppuswamy, CEO, Sterling Software Pvt Ltd (a CAMS subsidiary).
The focus of the event was to discuss:
The evolution of blockchain and bitcoin
The reasons for a transition from centralisedorganisations to distributed autonomous organisations
Applications of the blockchain beyond Fintech
Future of organisations and the role of Blockchains
The two blockchain technologies experts in attendance were:
Mr. Karthik Iyer, India Ambassador, P2P Foundation
Mr. J Mohamed Zahoor, Software Developer, Ethereum Foundation
Bitcoin is a cryptocurrency and digital payment system that has attracted the attention of financial systems worldwide and sent ripples across the financial sector. This system was created in 2008 by an anonymous person identified as Satoshi Nakamoto and was released as open-source software in 2009. According to a recent research by Cambridge University, there are between 2.9 to 5.8 million unique users using a cryptocurrency wallet, most of them using bitcoin. The transactions take place between users directly and do not rely on a central repository or single administrator. Instead, these are verified by network nodes and recorded on a public distributed ledger called a blockchain. Due to this, bitcoins have become the first decentralised digital currency.
The event first addressed the concepts of bitcoins and blockchains, and mapped their impact on a larger scale before moving on to the importance of distributed ledger systems and how they might affect the centralised systems in existence today. Bitcoin, blockchain and other decentralized data technologies are not just changing the way some people transact and share data but could also transform the way global data is stored, shared and consumed. Their emergence and proliferation into the mainstream is set to create a radical shift in business, the social web and even in digital governance.
Sterling Software is a leading technology and software solution provider, largely for the mutual fund industry in India and overseas. They design software solutions and products to keep pace with today's changing market place. Its software applications and products, support all participants in the MF industry, be it the fund house, the distributor and/or the investor. In addition to that, Sterling Software has a large pool of in-house expertise to regularly develop appropriate and advanced technology requirements. Their products have won various awards, including three consecutive "Best Financial App" from the Global Mobile App Summit & Awards for "myCAMS".